From the beginning, John McCain traded heavily on his "heroism" in Vietnam to make his way as a politician. Now, we're are being asked to not only look past the defects of this deeply flawed and corrupt man, but actually elect him president because of his past.
If only he were running against a Republican. What use would they make of that past?
McCain Used POW Past Heavily In First Election by JACQUES BILLEAUD,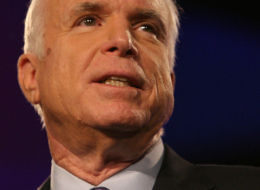 PHOENIX — A newcomer to Arizona, John McCain used his wife's wealth, ties to powerful Washington figures and, most of all, the emotional power of his five years in a Vietnamese prison to launch his political career 25 years ago.
Well-known today, McCain's harrowing experience during the Vietnam War was new to voters in his 1982 race for an open congressional seat. McCain saturated local TV with an ad focused on his military record that showed him getting off a plane on crutches shortly after his release as a POW.
"It showed he was a hero. It would bring tears to your eyes," said rival candidate Ray Russell, a veterinarian who finished second in the Republican primary that year.
In his 2002 book "Worth the Fighting For," McCain himself acknowledged his strategy: "Thanks to my prisoner of war experience, I had, as they say in politics, a good first story to sell."
The 1982 race to replace retiring Rep. John Rhodes launched McCain's political career. It cemented his reputation as a tireless campaigner and set the stage for things that would come back to haunt him, including his troubled relations with GOP conservatives and his ties to Charles Keating, a savings and loan financier later convicted of securities fraud.
Although he had moved to Arizona less than a year before announcing his candidacy, McCain overpowered Russell and two GOP state lawmakers in the primary and then trounced his Democratic opponent in what was then the state's most Republican congressional district. His 6-point edge in the four-way primary was the smallest victory margin of his career in Congress.