Unfortunately, all the good Bill Clinton did as president, the goodwill he won with African Americans and the great relationships he forged over the course of his political, he's not intent on frittering away in bitterness. He's affronted by Sen. Barack Obama's political ascent and he's not going to let it go, promising now to speak his mind next year.
Next year?
Give it a rest, Mr. Clinton. The nation has more pressing matter to attend to than the swamp in your mind.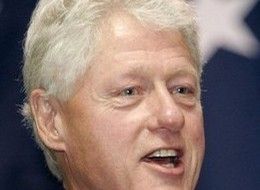 Clinton Embraces Return to Ambassador Role: After the Bitter Primaries, He Calls Charity 'My Life' By Anne E. Kornblut, Washington Post Staff Writer, Sunday, August 3, 2008; A01
KIGALI, Rwanda, Aug. 2 — There will be no Clinton restoration — not this year, at least. But the rehabilitation of Bill Clinton has begun.
The former president in many ways ended the Democratic primary campaign more isolated than his wife, with his own friends and allies unhappy with his flashes of anger and ill-chosen words and blaming him in part for Sen. Hillary Rodham Clinton's defeat. With a negligible relationship with Sen. Barack Obama — he has spoken to him just once since the primaries — Clinton has been shut out of the Obama campaign almost entirely and does not know even basic things, such as the role he will play at the Democratic convention.
It is uncharted territory for the most successful Democratic politician of his generation, and part of the reason he was in Kigali on Saturday, the latest stop in a grueling journey across Africa to visit some of the places where his charitable foundation has been active — and in the process re-establish his role as a global elder statesman. At the same time, Clinton began, slowly, to discuss the bruising Democratic primary season that ended two months earlier.
In his first extended interview since his wife exited the campaign in defeat, Clinton said he was glad to be back doing international foundation work. "This is my life now, and I was eager to get back to it, and I couldn't be happier," Clinton said in a hotel suite, with three aides looking on.
In a session that lasted more than 45 minutes, Clinton described his role in the 2008 campaign as "a privilege, an honor," and said, "I loved it," but he declined to discuss any of his own possible mistakes, describing them as a distraction. "Next year, you and I and everybody else will be freer and have more space to say what we believe to be the truth" about the primaries, he said.
Clinton volunteered very little praise of Obama, beyond describing him as "smart" and "a good politician" when asked about him toward the end of the interview. He did, however, muse at length about the role that race could play in the general election — the issue that some of his former black allies angrily accused him of introducing in the Democratic primaries — as a factor, if not a decisive one.