ChattahBox
A First Lady of a different kind
CNN – 50 minutes ago
By Jonathan Mann (CNN) — Take a brilliant, strong-willed, American woman. Let her marry a rising politician, start a family, build a successful legal career, and then emerge as a polished public figure in her own right.
The War Over Michelle Obama TIME
Tenn. GOP Sen. Wants Obama Ad Pulled CBS News
New York Times – Reuters – Indianapolis Star – National Review Online
all 212 news articles »
POLITICAL HOT TOPICS: Friday, May 23, 2008


Compiled by Mary Grace Lucas, CNN Washington Bureau
Washington Post: POW Aftereffects in McCain Unlikely
Sen. John McCain's 5 1/2 years as a prisoner of war in North Vietnam undoubtedly changed the course of his life. But now that he is 71, that remote trauma seems unlikely to shorten his life span or to lead to mental or physical conditions that are not already apparent.
LA Times: Obama makes moves for fall election
The Democratic front-runner looks for a running mate, talks with party officials and campaigns where it counts — all while trying not to overstep while Clinton is still in the race.
The Hill: GOP says troop cuts likely to help McCain
GOP Sen. John McCain's presidential bid could receive a boost if additional troops are withdrawn from Iraq this fall, according to his Republican colleagues. The Arizona senator's allies said Gen. David Petraeus's remarks Thursday that he expects to recommend more troop withdrawals this fall would validate McCain's arguments that last year's troop surge was needed to stabilize Iraq.
NY Times: As Race Wanes, Talk of Clinton as No. 2 Grows
While Senator Hillary Rodham Clinton and her advisers insist that she is determined to win the Democratic nomination, friends of the couple say that former President Bill Clinton, for one, has begun privately contemplating a different outcome for her: As Senator Barack Obama's running mate.
Read the rest of this entry »
Obama to tour key Western states


(CNN) — Barack Obama will travel to three crucial swing states next week, the latest sign the Illinois senator is moving into the general election phase of his campaign.
As first reported by the Web site Talking Points Memo and confirmed by an Obama campaign aide, the Illinois senator plans to make stops in New Mexico, Nevada, and Colorado next week.
Specifically, Obama will make stops in Las Cruces, New Mexico Monday, the Las Vegas area on Tuesday, and the Denver area on Wednesday.
All three states lean Republican but have increasingly been up for grabs in recent presidential elections. In 2004, President Bush beat John Kerry by 1 percentage point in New Mexico, by 5 points in Colorado, and by 3 points in Nevada.
The Obama campaign has argued that his appeal to independent and moderate voters will play well with voters in these key Western states.
Obama asks Jewish voters for chance Politico –

Thu May 22, 9:30 PM ET

BOCA RATON, Fla. — Barack Obama traveled Thursday to the center of Florida's Jewish community and asked one of his most skeptical constituencies to judge him "by what I say and what I have done."

Two New Hampshire Edwards delegates back Obama AP –

2 hours, 2 minutes ago

CONCORD, N.H. – Two of John Edwards' New Hampshire delegates said Friday they will back Sen. Barack Obama for the Democratic presidential nomination.

Obama and McCain on the hunt for veeps AP –

Thu May 22, 5:55 PM ET

WASHINGTON – Barack Obama and John McCain have begun taking quiet but purposeful steps toward choosing their running mates, fresh signs that the Democratic nomination fight is over and the presidential race is rapidly moving toward the Obama-McCain general election matchup.
Obama looks to shore up Jewish support
From CNN Associate Producer Martina Stewart, CNN Political Producer Mike Roselli


Watch a clip of Sen. Obama's remarks in Boca Raton Thursday.

(CNN) — As Barack Obama courted Jewish voters in Florida Thursday, John McCain looked to resurrect the controversy over the Illinois senator's former minister, Rev. Jeremiah Wright — who drew scrutiny earlier this year for comments he made in praise of Nation of Islam leader Louis Farrakhan.
The presumptive Republican nominee was responding to fallout over his decision to reject Pastor John Hagee's endorsement, because of remarks that seemed to suggest Adolf Hitler had been carrying out God's will because his actions drove many Jews to return to Israel.
"I have said I do not believe Senator Obama shares Reverend Wright's extreme views," said McCain in his statement rejecting Hagee's backing. "But let me also be clear, Reverend Hagee was not and is not my pastor or spiritual advisor, and I did not attend his church for twenty years. I have denounced statements he made immediately upon learning of them, as I do again today."
Obama immediately fired back, telling reporters McCain was unfairly implying Wright's controversial remarks were somehow attributable to him.
Read the rest of this entry »
Obama to deliver commencement address for Kennedy


(CNN) – Barack Obama will take Sen. Ted Kennedy's place in delivering the commencement address at Wesleyan University this Sunday.
According to Kennedy's Senate Office, Obama offered to take the Massachusetts senator's place earlier this week after Kennedy was diagnosed with brain cancer.
"Senator Kennedy accepted knowing it would be an historic opportunity for the school and all those attending, including his daughter Caroline Raclin who is graduating and his son Ted Jr. who is attending his reunion," Kennedy's office said in a statement. "He's enormously grateful to Senator Obama and the support he's received from all of his colleagues this last week."
Cafferty:Does Obama have a problem with Jewish voters in Florida?
From CNN's Jack Cafferty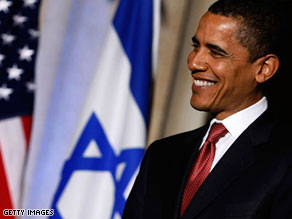 "The fate of the world for the next four years… it's all going to boil down to a few old Jews in Century Village"… that's the assessment of the 2008 election campaign by Rabbi Ruvi New, according to the New York Times.
While the line is the kind that will get a laugh, the point he's making is very serious: Barack Obama could have a problem with some Jewish voters, especially in Florida.
Obama was in Boca Raton today speaking in a synagogue about foreign policy and his approach to Israel. Florida is critical, and Jews make up almost 4% of voters there. Many of them are elderly, and that's the group that has concerns about Obama.
He has received a lot of support from younger Jews – winning 45% of the Jewish vote in the primaries – if you don't include Florida and Michigan. But the latest Florida poll suggests Obama would lose to John McCain, while Hillary Clinton would win.
Obama didn't campaign in Florida and voters didn't get a chance to know him.
To read more and contribute to the Cafferty File discussion click here
GI Bill poses challenge to McCain
From CNN Ticker Producer Alexander Mooney


(CNN) – Two presidential candidates were back on Capitol Hill Thursday, but the third was noticeably absent.
Presumptive Republican presidential candidate John McCain campaigned in California as his Senate colleagues voted to approve a measure that many Republicans and war veterans support – but he opposes.
The legislation, an updated version of the GI Bill, passed the Senate Thursday afternoon by a wide 75-22 vote margin and passed the House earlier this month by a similarly wide margin, proposes to essentially provide a full scholarship to in-state public universities for members of the military who have served for at least three years.
But McCain, as well as President Bush and much of the military brass, oppose the measure because they worry it will deplete retention rates among those currently serving in the military at a time when recruitment efforts are already struggling.
And in what is a sign of just how much of political issue this has become for the Arizona senator, his likely presidential rival Barack Obama took to the Senate floor earlier Thursday to directly chastise him for not supporting the measure.
The bill has already become a political football in the presidential race and poses a major dilemma for McCain: his experience as a post-Vietnam War military officer left him with firsthand experience of the effects of an understaffed military. But his current stand puts him in direct opposition of many veteran organizations whose support will be crucial to his White House hopes.
Democrats, including Obama, see the measure as an opportunity to undermine one of the Arizona senator's greatest strengths — his credibility on military matters and his broad support among military veterans.