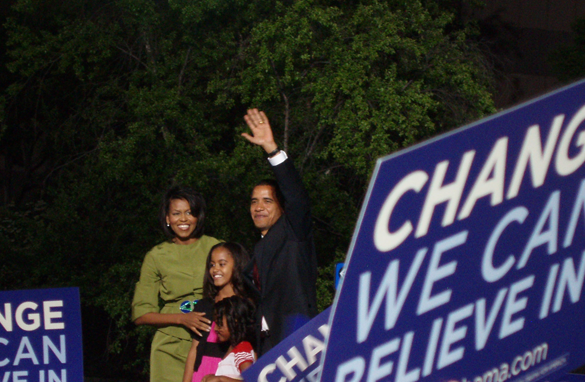 Obama greets supporters in Iowa Tuesday, more than four months after he won the primary season's first contest there. (Photo Credit: Mike Roselli/CNN)
Posted: 06:34 AM ET
Compiled by Mary Grace Lucas, CNN Washington Bureau
Obama Takes Delegate Majority
Sen. Barack Obama crossed another threshold last night in his march toward the Democratic presidential nomination, splitting a pair of primaries with Sen. Hillary Rodham Clinton and claiming a majority of the pledged delegates at stake in the long nomination battle.
WSJ: Clinton Keeps Up Fight
Heading into twin Democratic primaries Tuesday in Kentucky and Oregon — which the two candidates are expected to split — Sen. Hillary Clinton is vowing to stay in the race to the end, even as her staff and supporters show further signs of fraying. In an interview in Bowling Green, Ky., on Sunday where she was campaigning ahead of Tuesday's vote, Sen. Clinton said, "I'm still here because I think I would be the best president."
Youngest Kennedy Brother Enhanced Legacy, and Built His Own
For millions of Americans, the announcement that Sen. Edward M. Kennedy has brain cancer was at least the fourth chapter of a tragic epic that began on Nov. 22, 1963, with the assassination of John F. Kennedy. It continued through the death of his brother Robert in 1968, then of John Jr. in a plane crash in 1999. And yesterday it was the sudden reminder of the mortality of the last surviving son of Joseph P. Kennedy, the patriarch who created this family of strivers and doers.
LA Times: McCain, in Miami, promises to continue isolating Cuba
Sen. John McCain on Tuesday laid out his plans for strengthening democracy and U.S. influence in Latin America, vowing to extend free-trade pacts throughout the region and to continue isolating Cuba until the communist-ruled island frees political prisoners
May 21, 2008
Posted: 08:15 AM ET
From
CNN's Alan Silverleib and Mark Preston
Sen. Barack Obama has picked up a majority of the pledged delegates, according to CNN calculations.
NEW YORK (CNN) – Hillary Clinton won a landslide victory in Kentucky Tuesday, but momentum — and a growing sense of inevitability — is now firmly on Barack Obama's side.
He took Oregon last night, but it was his symbolic victory with pledged delegates that was the storyline.
The one-time long shot for the Democratic nomination has a majority of pledged delegates to the Democratic Convention and is now about 70 delegates shy of the finish line.
Filed under: Barack Obama • Hillary Clinton
Posted: 07:38 AM ET
Sen. Barack Obama has not had the same success with older, white and blue-collar voters as Sen. Hillary Clinton.
LOUISVILLE, Kentucky (CNN) – Tuesday may end up a big night for Barack Obama, giving him a majority of all possible pledged delegates in the Democratic race for the White House. But exit polling in Kentucky — where CNN is projecting rival Sen. Hillary Clinton will win by a wide margin — suggests that he still has big problems in states with a large majority of older, white and blue-collar voters.
Nearly half of Democratic voters in Kentucky polled Tuesday said they would either vote for Republican Sen. John McCain or not vote at all in November if Obama is the Democratic nominee. Among 1,278 people polled, 33 percent said they would pick McCain over Obama, and 16 percent said they would not vote at all.
By comparison, 76 percent said they would choose Clinton over McCain, with only 17 percent supporting the Republican and 6 percent not voting.
Filed under: Barack Obama • Hillary Clinton
Posted: 06:36 AM ET
From CNN Ticker Producer Alexander Mooney
Clinton and Obama supporters both said Clinton attacked unfairly.
Elections
AP – 18 minutes agoWASHINGTON – Late in the game, Barack Obama and Hillary Rodham Clinton are courting voters in Florida, a state so far shut out of their Democratic presidential race, after trading wins in a pair of primaries that brought Obama within sight of his party's nomination.